HubSpot for Construction and Remodeling Companies
The construction industry is advancing just as quickly as any other industry, with builders and construction businesses responding nimbly to the changing demands of consumers and regulations.
Since the construction industry is historically built on face-to-face interactions, it generally lacks the digital marketing tools that consumers encounter regularly in other industries. Onboarding to these platforms can be intimidating, though, and many businesses may find themselves wondering if it's worth the hassle.
As a digital marketing agency, we've seen how game-changing a quality customer relationship management (CRM) and marketing platform can be, making the day-to-day better for both customers and business owners alike. One of the best platforms for builders and remodeling companies is HubSpot, which is a user-friendly platform that features powerful tools and beneficial integrations.
At Vaulted, we brought the efficiency and power of HubSpot to Carlson Projects, a construction, roofing, and remodeling company based in Lincoln, Nebraska. The team at Carlson Projects have become passionate advocates for the use of future-forward technology and digital platforms in the construction industry to make operations more efficient and deliver better customer experiences.
In this article, we delve into employing HubSpot for construction businesses of all sizes, and then we dissect how Carlson Projects uses and plans to use HubSpot as an example.
What is HubSpot?
Let's start with the basics: HubSpot is a software-as-a-service (SaaS) solution, featuring CRM, marketing, and operations tools. Best known for inbound marketing, HubSpot has options for all sizes of companies, agencies, and sole proprietors, with many helpful free tools that provide a great on-ramp to using the platform.
According to HubSpot, "HubSpot is a CRM platform with all the software, integrations, and resources you need to connect marketing, sales, content management, and customer service. Each product in the platform is powerful on its own, but the real magic happens when you use them together."
A CRM allows a business to manage and organize their contacts, allowing the business to communicate and automate tasks for current and prospective customers. CRMs can also be helpful in marketing, operations, and customer service.
HubSpot's tools are organized into five different Hubs, which can be used separately or together. The Hubs are:
Marketing Hub
Sales Hub
Service Hub
CMS Hub
Operations Hub
Depending on the needs of your construction business and the tools you're looking for, you can select to use one or more of these Hubs. For construction companies, HubSpot can provide an all-in-one solution, so instead of using different tools that don't always communicate with one another, you can easily organize all your data in one place.
Modernizing Construction Companies with HubSpot
For construction companies, digital marketing is becoming a necessary part of a successful business plan. The construction industry can be slow to embrace all of the tools and platforms available from the tech world, though, putting builders and construction companies at a disadvantage when it comes to digital marketing and related modern platforms.
At Vaulted, we often work with businesses who come from construction or similar industries who may have some hesitation when it comes to onboarding these digital tools. We work closely with these clients to identify their unique needs, and, based on those needs, we often recommend utilizing HubSpot.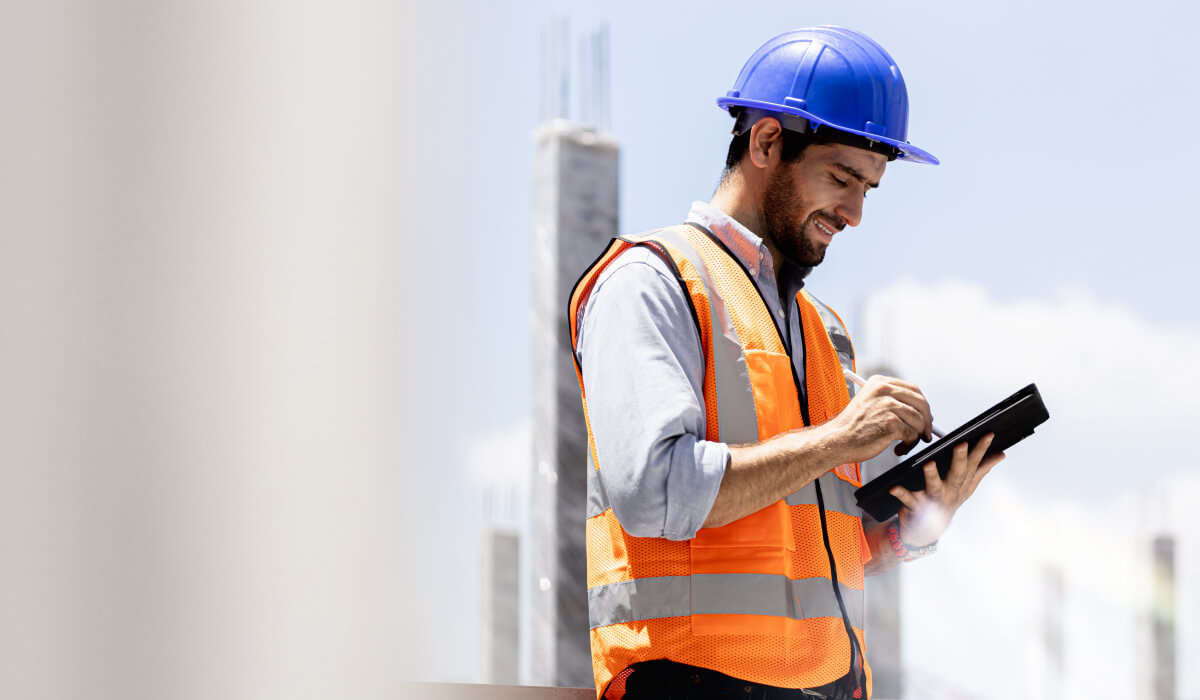 HubSpot is a great tool for the construction industry because of its ease of use and all-in-one platform. Since HubSpot is a leading CRM, it's always on the leading edge when it comes to leveraging the latest developments in digital marketing.
As a HubSpot Partner Agency, Vaulted is qualified in guiding companies into the optimal use of the HubSpot platform, generating real results that exceed business goals. In this article, we'll break down how we've used HubSpot for construction companies, including sharing a successful case study.
HubSpot Case Study: Carlson Projects, Inc.
Carlson Projects, Inc. is a family-owned roofing, remodeling, and construction company based in Lincoln, Nebraska. The team at Carlson Projects is committed to leading trusted construction companies like theirs into the future, which, to them, means embracing the technology and tools that the industry is often slow to adopt.
When the team at Carlson Projects first met with Vaulted, they faced a range of challenges in their day-to-day business operations and marketing strategies. They knew there had to be a better way. Marketing Director Heather Thoming explained their enthusiasm for HubSpot inbound marketing tools, saying, "We are huge believers in inbound marketing and are currently using HubSpot to help us build our library of resources for our website."
Today, Carlson Project utilizes HubSpot for effective lead management, customer communication, and more. They continue to expand their use of HubSpot and are excited to share the benefits of HubSpot with other companies in construction and beyond.
How Construction and Remodeling Companies Can Utilize HubSpot
It might seem like construction companies will only need to focus on the hands-on aspects of business, but that viewpoint is quickly becoming outdated. Below we outline a few areas where a CRM like HubSpot works for construction businesses.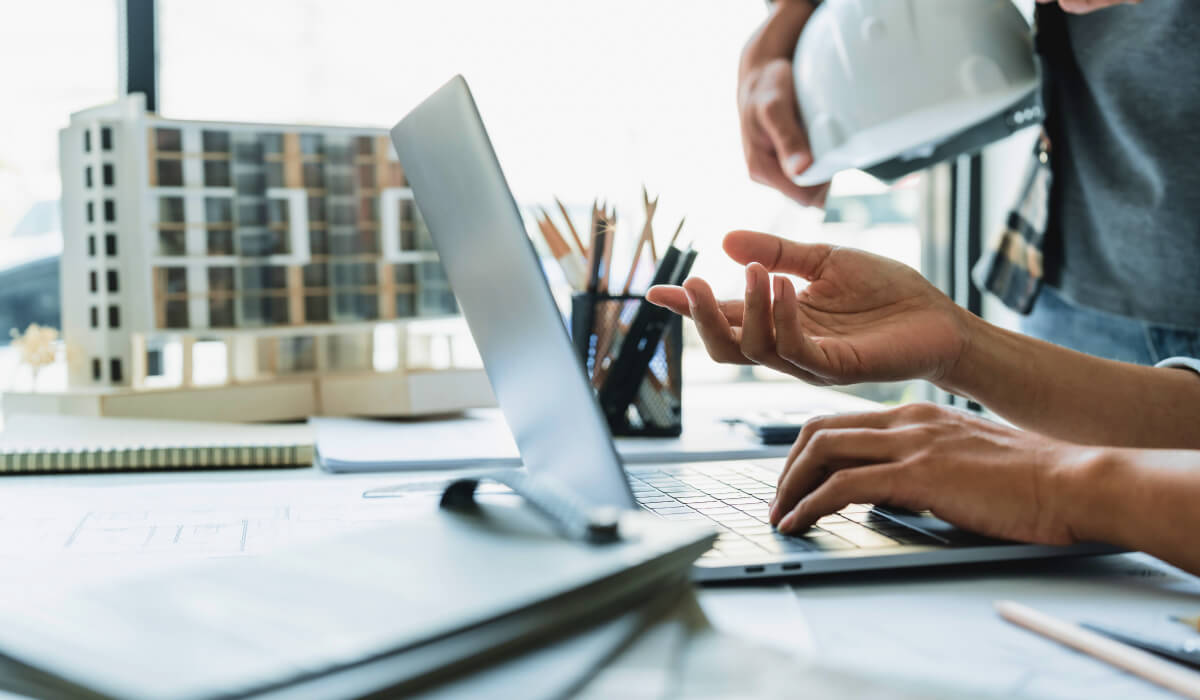 4 Ways HubSpot Makes Construction Companies More Efficient
HubSpot has dozens of helpful tools for your construction company. Below we outline just a few ways to increase efficiency with the platform.
1. Manage Estimates
Bring your deals and contracts into our central place with the quote software from HubSpot Sales Hub. You won't have to spend time designing these crucial documents, since the Sales Hub can let you automatically generate professional sales quotes—that are populated directly from your CRM data.
With HubSpot, you can also collect e-signatures and even process payments. All parts of the sales process will feed into your sales analytics and deal pipeline, allowing you to better forecast for the future of your business. You'll have an overhead view of where all your prospects and customers are in the sales lifecycle.
2. Save Time with Automation
No one wants to be stuck on the phone and the computer all day, handling mundane tasks like sending emails or scheduling appointments. With HubSpot, you can get those hours back in your day thanks to automation on both marketing and sales tasks. While automation may sound confusing, it doesn't have to be.
HubSpot automation tools are spread all across the different Hubs, with tools including targeted workflows, leading nurturing email drip campaigns, and lead scoring. As a construction company, you can create a workflow that automatically takes a new lead submitted from a website form and places it into an informational email sequence and shares that lead information with your sales team. You won't have to set aside separate time to deal with each individual lead.
At Carlson Projects, the team found themselves sending the same exact email to multiple clients but spending far too much time on the repetitive task. To address this, one of their first projects with HubSpot was to develop a complex automation sequence that ensured each lead and customer was sent through the right workflow.
Carlson Projects partnered with Vaulted to bring their theoretical automation sequence into reality. As a HubSpot Partner Agency, Vaulted helped Carlson Projects navigate the powerful tools that HubSpot offers, including time-saving automation sequences.
3. Advertise to New Customers
There are so many avenues to advertise online today, it can be hard to know where to start. HubSpot supports construction companies who are ready to dive into digital advertising but may be unsure where to start. With HubSpot ad management software, you can manage your campaigns that are in Google, Facebook, LinkedIn, and Instagram.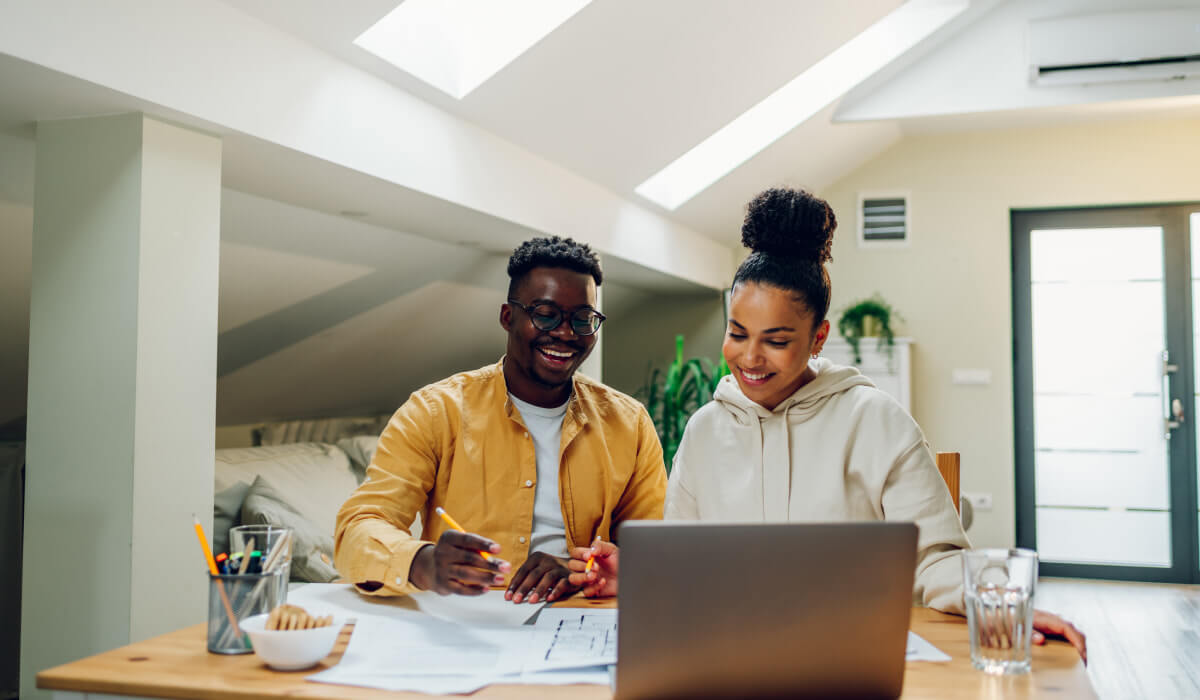 The best part of this ad management tool may be the ability to break down your return on investment (ROI) and tie it directly to the data in your CRM. You'll see when an ad click leads to a finalized deal, thus allowing you to better understand which ads and platforms work best for your goals.
You can also completely customize and target your audiences based on different segments of your audience and where they are on the customer journey.
4. Understand Your Data
Speaking of that essential customer journey, with HubSpot, you'll get an easy-to-understand analytics tool that can break down key data like your customer journey, supported by resources that explain clearly how to set up and use that data. HubSpot gives you a singular source of truth for your reporting thanks to its advanced reporting and dashboard software.
The comprehensive reporting can connect the dots between marketing, sales, service, and operations data. You can create custom dashboards for different teams or even team members, pulling together the exact data they need to make key business decisions. The platform can also integrate into other tools you use, like Salesforce and BuilderTrend.
At Carlson Projects, HubSpot reporting and analytics provided a new path forward for decision making. They are now able to more consistently base decisions on data rather than gut feelings or conventional wisdom, as is the norm in the construction industry. They can also better forecast, budget, and plan ahead thanks to a clearer picture of their conversion rate and sales lifecycle timeline.
4 Ways HubSpot Gives Customers a Better Experience in Construction
At Carlson Projects, the team leveraged HubSpot's tools to improve the experience they delivered to their customers. Below we outline a few ways that customer experience can be improved thanks to the platform.
1. Create a Seamless Customer Experience
We've all experienced less-than-stellar communication from a business. With HubSpot, customer communication is easier than ever. Sometimes it's the most seemingly simple tools that make all the difference, like the free scheduling tool that lets prospects and customers book a call directly from your website.
Within the Service Hub™, you'll find even more tools that improve the customer experience, including a customer portal, shared inbox, live chat, feedback surveys, and more. All of these tools connect back to your single CRM, so nothing ever goes unrecorded.
2. Develop an Optimized Website
Did you know that you can design and launch web pages or even an entire website from HubSpot? You don't even need to know how to code to create a website with HubSpot.
An up-to-date, user-friendly website is essential to provide your customers with a good experience. Customers count on your website to find necessary information and to establish the trustworthiness of your business. If you aren't sure where to start when it comes to website design for your construction company, you can utilize a professionally-built website theme.
The website can then be managed through the CMS Hub®. The CMS, or content management system, allows you to create and update the content on your website.
3. Streamline Communications
Customers should never be left feeling like they can't get their questions answered, so HubSpot has several features that allow customers to get those answers easily. For example, the Live Chat tool lets your website visitors utilize both automated chat features and real-time customer support from one of your team members.
With the HubSpot CRM, all of your team members will have access to the same information about your customers, so you won't be left unable to answer their questions.
4. Discover Helpful Information
Inbound marketing is the backbone of HubSpot—but what exactly is inbound marketing? Inbound marketing is the practice of creating high-quality content that brings in your ideal customers to your brand, and from there, they are likely to become customers.
HubSpot prioritizes creating inbound marketing content, which, in turn, provides that valuable content to your prospects and customers. HubSpot's tools let you easily make blog posts and whitepapers that will both share information with your audience and bring in new customers.
If you're not sure where to start when it comes to inbound content marketing, HubSpot even has a Blog Ideas Generator tool to get you started.
Understanding the HubSpot Hubs
HubSpot has a huge catalog of tools that can be used for your construction or remodeling company, but it's important to understand that those tools are tied to specific Hubs based on the functionality of the platform.
Marketing Hub™
Get all of the marketing tools you need in one place to reach new customers, automate tasks, and analyze performance. Popular Marketing Hub™ tools include:
Live chat
Marketing automation
Contact management
Dashboards and reporting
Forms
Campaign management
Sales Hub®
The HubSpot Sales Hub® helps to simplify your sales process and bring your sales data into one user-friendly CRM. Popular Sales Hub® tools include:
Email automation
Payment processing
Sales quote creation
Meeting scheduling
Sales playbooks
Pipeline management
Service Hub™
Deliver better customer service, faster. Popular Service Hub™ tools include
Customer portal
Live chat
Shared inbox
Feedback surveys
VoIP calling
Playbooks
Automated customer service
Help desk and ticketing
CMS Hub®
Build and optimize a website for your business. Popular CMS Hub® tools include:
Drag and drop website builder
Web hosting
Custom domain connection
Fully-integrated CRM
Pre-made website themes and templates
Operations Hub®
Save time on your business processes while counting on a single source of truth. Popular Operations Hub® tools include:
Data sync
Data quality automation
Team management
Snowflake data share
Custom report builder
How Carlson Projects Succeeds with HubSpot
Carlson Projects approached Vaulted to develop a complete automation process within HubSpot, saving them essential time while delivering a consistent customer experience. They found HubSpot gave their construction and remodeling company the tools they needed to totally transform how they worked with their customers, producing a better experience and a greater opportunity for growth and revenue.
Carlson Projects Marketing Director Heather Thoming explained,
"We know that trust when it comes to the construction world can be a touchy subject. We are working to use Hubspot to help to create lines of communication with our customers to help them feel comfortable with our process with automated emails sent along each step of their remodeling journey. They are no longer in the dark, wondering what is coming next. Most construction companies don't have the time or resources to tackle that level of communication without the help of automation that Hubspot provides."
Thoming highlighted that a potential customer may fill out their client intake form, and then they continue to visit the website pages about kitchen remodeling. The team at Carlson Projects now has a vital piece of information that they can use to tailor contact with the potential customer, focusing on what they are interested in.
Discover How HubSpot Can Help Your Construction Business
HubSpot is one of the most popular marketing and CRM tools available today for a reason. Companies from all industries, including construction and remodeling, have found success with the huge range of tools from the platform.
At Vaulted, we love bringing powerful tools like HubSpot to clients of all shapes and sizes, including those who may be hesitant to embrace digital tools. With Carlson Projects, we had a partner who was passionate about digital marketing and innovation but frustrated with an industry that does not prioritize those advancements. Now, Carlson Projects is leading the way by championing HubSpot for construction businesses.
As a digital marketing agency, Vaulted works with businesses of all industries and levels of expertise, developing bespoke strategies to accomplish your business goals. Our specific approach is iterative, practical, and designed to scale at any size organization.
Interested in HubSpot or other digital marketing solutions for your business? Contact us to learn more.